Welcome!
Consultrade 2002 Ltd. was founded in 2002. The two founding members were driven by the realisation that the democratic changes of the early 1990s in the countries of the Eastern-European region brought about changes in economic relations as well.
During the changes the traditional foreign trade connections were lost, and a large number of new economy operators emerged thanks to the privatizations and compensations. These new operators did not get adequate information about the market and parallel to this the mutual loss of market affected the changing countries badly.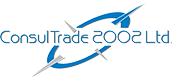 The founders spent nearly 20 years in diplomatic service and in other external service groups in the countries of the region. Based on their personal experience the founders knew that these new operators were suffering capital and information shortage, while the new market of the changing countries offered not only great opportunities but large reserves as well.
The shortage of information, the lack of local and language knowledge became the obstruction to the development of economic relations. Consultrade 2002 Ltd. was founded to overcome these obstructions, and its main profile is trade and enterprise counseling, focusing mainly on the Eastern-European region.
Consultrade 2002 Ltd. is a member of the Hungarian Chamber of Commerce

ConsulTrade 2002 Kft.
H-1112 Buapest, Igmándi utca 43.




E-mail
consultrade@t-online.hu